Published on Sun, 17 May 2020 08:00
This week's resources explore: the connection between loving Jesus and keeping his commandments.
Before reading the Bible story take a look at the Talk2kids, which can also be found in this area of the website, and find out how penguins can help us understand about today's story.
Bible story
John 14.15-21: Jesus promises to send the Holy Spirit to be with us and help us for ever.
Re-order and read
Print the passage out and cut it into eight strips corresponding with the numbered points below. Give these out and see if the children can put the passage in the right order and make sense of it. Help to ensure the order is correct and then read it together.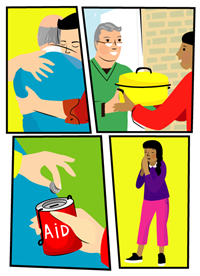 One day, Jesus said to his disciples, 'If you love [1] me, you will keep my commandments. Although I am going away [2] in a little while, I will not leave you on your own. I am going to ask God the Father to send an Advocate, his Holy Spirit [3]. It is the Spirit of truth and it will stay with you for ever.' He continued, 'The world is not ready for the Holy Spirit, because it does not see or know God's Spirit. But you will know the Holy Spirit [4] because it will live in you.'
Jesus said, 'The world will not see me [5] once I have gone away. But you will see me. On that day you will know that I have returned to my Father. And you will know that I live through you [6] and you live through me.
'There are other people,' [7] he added, 'who also love me and keep my commandments. They are loved [8] by both me and my Father and I will show myself to them.'
Glossary
commandments rules to follow in life, given by God
Advocate the Holy Spirit who speaks for God.
Spend time reflecting on the Bible passage, using the questions below as appropriate.
Talk together with children
What do you think Jesus means when he says that the Holy Spirit will 'live in you'?
Can you think of an example where you've kept a rule because you love someone?
If we love Jesus and try to show his love, what difference might that make to the other people we know?
Talk together with young people
What does Jesus ask of us?
What does Jesus promise us?
Do you find this passage reassuring or challenging? Why?
Notes on the Bible story for parents and carers
This passage follows on directly from last week, and here Jesus expands on what he said about following in his way by explaining more about how we put the idea into action: by loving Jesus and keeping his commandments.

This relationship between loving Jesus and keeping his commandments is not a case of 'if you love me, prove it!', but rather Jesus explaining how us loving him enables us to keep his commandments. This is not a rule-keeping exercise but a reminder that Jesus' commandments are all rooted in a loving relationship: loving God and loving others.

In verses 16-17, Jesus goes on to explain how we are not expected to do this on our own, but rather that we have the Holy Spirit, or 'Spirit of truth', as our 'advocate'. The Greek word literally means the one 'called to your side' and could equally be translated as 'intercessor', 'counsellor' or 'intermediary'. Crucially, the term means someone who will never desert us in our hour of need. This then flows on naturally from discussing our relationship with the Holy Spirit to discussing our relationship with Jesus and with the Father; this is all bound up in that oneness with God that ensures that we are not left on our own.

In verse 21, John describes how this relationship will work, always deepening and developing in love. We are invited to receive that same Holy Spirit, enabling us to love God and keep his commandments.
A prayer to end with
Lord Jesus Christ,
you have called us to love God
and love our neighbours as ourselves.
Give us the Holy Spirit
to help us follow your commandments
and to live in peace, hope and love.
Amen.

Further Activities
Link to Children's activity sheet

Link to Children's colouring sheet
Print the words from the link above and whilst you are colouring the words think about how loving others shows that we love Jesus.
Link to Further Roots Activities
If you would like to send any feedback or show us something you have done please click the link here
Ruth's music spot
Some of you will remember Sally who was our Associate Minister before Dorothy, and you will probably remember too something she told us: "To love God is to love each other". When she left the Cathedral to go to Christian Aid Scotland, one of the things we gave her was a framed copy of a song I wrote for her that was based on this message. Rhona made a lovely drawing of the Cathedral to go with it and we hope it reminds her of us, just as we remember her and her teaching. Here it is for you to think about this week:
Click here for music and words.